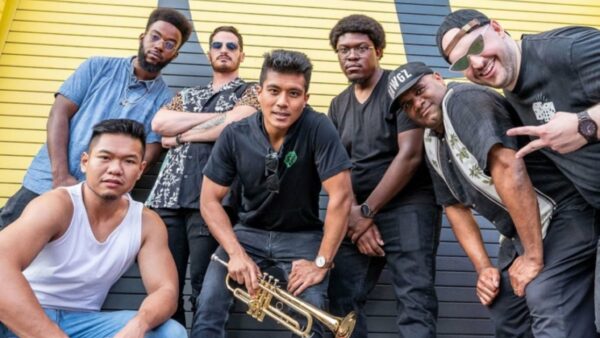 ABOUT THE EVENT
Reminder: Please always check event details specific to the event you are planning to attend. Select policies and prices — including ticketing, seating, and outside food/beverage policies – AND COVID-19 related protocols and requirements — vary from event to event and are subject to change up to time of event!
TERMS: Claiming a ticket or being a guest at the venue is an agreement to comply with all of the venue's discretionary rules and safety protocols. Be advised that safety protocols are subject to change; they are continuously being reviewed and revised in order to meet or exceed local, State and CDC guidelines to ensure the safety of all attendees and the community at large. While not required at this time for FREE events, Venue reserves the right to require proof of vaccination or negative test for free presentations up to time of event.
Please come prepared to wear a mask at check-in and/or when interacting with staff, artists and volunteers; and when visiting the indoor restrooms.  The most up-to-date protocols are circulated to ticket holders in advance of each show.
Event-specific rules and information:
* Event is rain or shine.
* In the event of showers: Ponchos are best! While umbrellas may be allowed, venue reserves the right to direct patron to close umbrella if it is obscuring another patron's view or compromising another patron's safety or enjoyment.
* BYO-Lawn Chair – NOTE: A no-chair zone will be in effect at front of lawn.
* Outside food and drink (other than water) are NOT allowed at this free event – please note – a refreshment bar will be open on site; you must provide valid photo ID (21+) to purchase alcohol. A food truck will be on site.
* Masks should be worn during check-in and whenever interacting with staff and volunteers, and when visiting restrooms.
* Smoking is prohibited, including but not limited to cigarettes, cigars, pipes, e-cigarettes or any other vaping devices.
* Aisles must be kept clear at all times.  Restricted areas are off limits including but not limited to backstage, garden beds, and mulch-covered areas/slopes.
* Pets are not allowed.
* Children must be accompanied by an adult at all times – no roaming.
* The use of scooters and skateboards is prohibited throughout the premises, including but not limited to the ADA access ramp, the entry plaza, and the terrace.
* The Levitt Pavilion is an outdoor amphitheater with a sloped lawn. Please wear appropriate footwear to safely enjoy the experience.
* Do not dump leftover ice on lawn.
*Free Tickets may not be claimed and sold. Selling free tickets will result in loss of account access.
* All those claiming ticket(s) are responsible for sharing these rules and directions with guests in their party.
* Patrons are asked to self-screen for any of the CDC's recognized COVID-19 symptoms and refrain from attending if necessary.
WAIVER OF LIABILITY AND ASSUMPTION OF RISK: All attendees, by claiming a ticket and/or attending the event, agree to assume all of the risks, hazards and dangers that may arise from, or relate in any way to, the risk of contracting a communicable disease or illness (including exposure to COVID-19, a bacteria, virus, or other pathogen capable of causing a communicable disease or illness) whether occurring before, during, or after the event, however caused or contracted. Therefore, anyone who attends the event hereby waives any and all claims against the Friends of the Levitt Pavilion d/b/a Levitt Pavilion, the artist, and/or all related sponsors relating to all risks of personal injury, sickness, permanent disability and/or death.
ABOUT THE ARTIST